Nick Names: Kay, KayChan, Kables, or Bang.


Sign: Taurus.


Gender: Female.


Likes: Art, Anime, Animals, Birds, Cartoons, Cash, Chickens, Computers, Cooking, Drawing, Food, Friends, Ghosts, God, Gothics, Guys, Happiness, Jewelry, Juice, Music, Nature, Pie, Pranks, Presents, The Paranormal, TV, Writing.


Dislikes: Attention Whores, Body Oder, Bugs, Clutter, Depression, Drama, Golf, Haters, Infomercials, Liars, Long Movies, Pun Jokes, Rap, Sugar Free Candy, Unfairness.


Music: Austrian Death Machine, Avril Lavigne, Barenaked Ladies, Coldplay, Dethklok, Disturbed, Kelly Clarkston, Limp Bizkit, Linkin Park, OffSpring, Psychostick, Queen, System Of A Down, Tenacious D, The Beatles, Weird Al.


Hobbies: Being Lazy and Sleeping...


Family:


- My anthropomorphic boyfriend.


- My son, who is actually a shape shifting spaceship.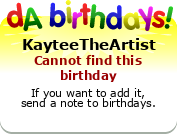 About Requests:
I am not the best artist in the world, far from it. However once in a while, I get asked for a request. Requests are exactly how they sound, they are a REQUEST and not a ENTITLEMENT or a DEMAND! If you ask me for a request, I'll usually let you know that "I'll try" meaning if I have time, the resources, and the motivation, then I will do it. If it never gets done, that doesn't mean I forgot, it means I chose not to do it. Plain in simple. If you don't like it, don't ask.